Northland Prep Cross Country Program Details & Sign-up
Cross Country (HS)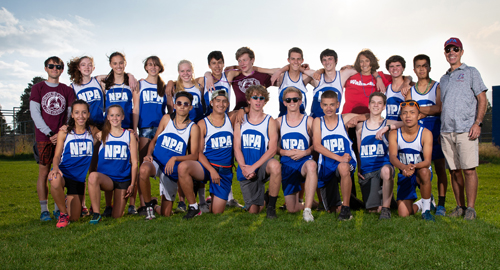 Division IV
Section III
Useful Links
Varsity Boys
Varsity Girls
Head Coach: Carl Perry 
Asst. Coach: Jill Ulm
MS Cross Country
Coach: Karen Knappenberger
Email: kknappenberger@northlandprep.org
*Sign up for notifications here: https://www.remind.com/join/8ak6c8
Practices:
Practices are Monday through Thursday.
Monday, Tuesday, and Thursday are at school from 3:30 – 4:45 PM
Wednesdays are at Buffalo Park from 3:30 – 4:45 PM
Tentative Meet Schedule
*Times may change as the hosting school makes updates.
September 7th – NPA Pizza Relay Meet @ Buffalo Park
*NPA hosts this meet! We would love as much help as possible! Start time: 4 PM.
September 20th– Sinagua Middle School Meet @ Foxglenn Park (start time TBD)
September 30th – SFdA Meet @ San Francisco de Asis School (3:00pm start time – subject to change)
October 6th – Mount Elden Middle School Meet @ Buffalo Park (3:00pm start time – subject to change)
October 13th — BASIS Meet @ BASIS Flagstaff
October 22nd – Northern Arizona Regional XC Middle School Championships @ Fort Tuthill
November 5th – AZ Youth XC State Championships @ Asante Community Park, Surprise, AZ