Samantha Carpenter, MS, ATC, LAT, CSMS
Athletic Trainer
Sports Medicine and Performance Teacher
If in need of athletic training services while NPA is closed, please email scarpenter@northlandprep.org or samantha.carpenter@nahealth.com to create an appointment. I will be working out of the East Entire Care Physical Therapy Clinic, but we will be running as normal. 
For Sports Medicine Students, please join your class on Google Classroom. Your class code is
6r3ah2x

. Send me an email if you are having trouble getting connected.

Samantha earned both her Master's Degree in Athletic Training and Bachelor's Degree in Fitness Wellness from Northern Arizona University. As a Certified Athletic Trainer licensed to practice in Arizona, her aim is to keep athletes healthy and safe through injury prevention, education, and rehabilitation of athletic injuries. In addition, athletic trainers are healthcare professionals who are also proficient in the following:  clinical evaluation and diagnosis, immediate care, treatment, reconditioning, organization and administration, and professional responsibility. 

If interested in becoming an athletic training student at NPA (helping in the ATR, attending games, taping, etc.), please send an email

Instructions on how to register can be found here: http://northlandprep.org/athletics/athletics/athletic-training/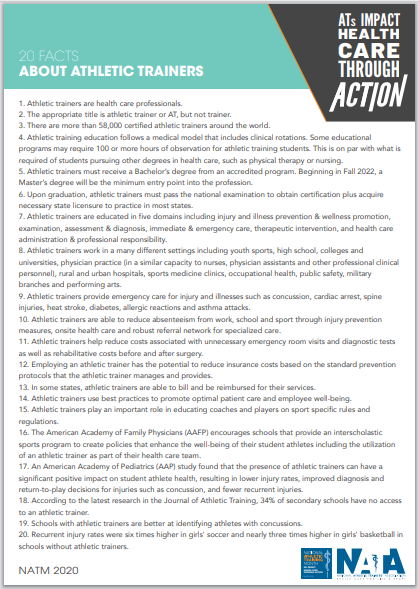 Sports Medicine and Performance Class:
We will be meeting in rm. 110 on the first and second day of school (8/7 and 8/8). Friday, we will be doing a neuromuscular analysis/pre-test in the gym. Students, please come dressed out and ready for activity.
What you need on the first day: Paper or notebook for notes, a folder, pens/pencils, and a positive attitude.
Don't forget to bring athletic clothes and a water bottle for Friday and all following "gym" days.
Hide All
Show All
Course List
Description:
The purpose of this course is to provide a background in athletic training as a healthcare career path, explore other sports-related healthcare careers, learn the skills involved in sports medicine, and to learn about and participate in an injury prevention program.
Planbook Code:
Click Here for Weekly Planbook(opens in new window)